Modern writers need some sort of convention presence.  I've seen enough of my favorite writers set up shop in such a way, though others keep themselves busy with appearances, if they're lucky.  Some writers set up a table and stack up books.  Some go for different layouts, working with other writers to set up an area that looks more like a showroom than a simple table display.
Everyone has different ways to go about it, but the important thing is to make a good show, spread the word, and sell some cool stuff.
For my initial display, I hope to set up an array of my written works, but also some of my artistic endeavors.  After all, how many writers have art from their stories readily available?
Here's a simple diagram of what I have planned for my initial table layout.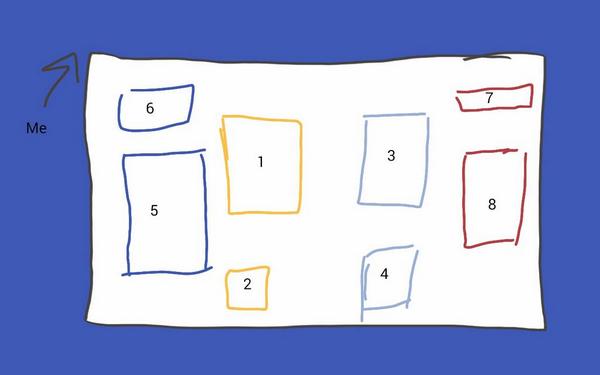 Vitamin F in print.  This is something I've been toying with.  If I can pull it off, I think it could prove a big hit.
Vitamin F postcards.  It could be an autograph/marketing tool or a sale item.  Not sure yet.
A short story anthology.  This could be stories from The Night Lands, it could some steampunk stuff, it might be both.
Small print of the cover of #3.  There has to be an affordable bit of merchandise that still seems worthwhile.  This will be it.
Binder showing my selection of available prints.  This will be the catalog of what visual items are for sale.
A collection of my art.  Anotehr book, this one art-based.  It may have some flash fiction as well.
Marquee art piece.  This isn't merchandise, but a pure attention-getter.  It's also an easy piece to photograph with.
Price list.  People need to know what things cost.  I don't know prices yet, but having a place to easily refer to is good for all parties.
How far all these things go depends on a lot of factors, time being one of them.  We'll see how it all works out, but I'm glad I have this plan in place.